HOME
Welcome to the new and official Jagged Alliance: Flashback site!
On the site you'll be be able to find various news about the game, discuss certain aspects of the game in the forums and see video clips like dev diaries or timelapse showcases once we get further into development.
---
Update 48: Final Countdown + Dev Diary 5
Dear Backers,
We are closing in on the release of Jagged Alliance: Flashback, which is why this will be our last big update before the release. There is a lot of new content in the new update and still more to come. This last week will surely be intense, as we will be working full throttle to get the game polished up with as many features as possible.
Here's a quick overview of the Final Countdown update:
Energy System: The energy system aims to create the feeling of exhaustion or vigoration at appropriate times. A unit will run low on energy after, for example, sprinting for several consecutive turns. This simulates being out of breath, exhaustion or even unconsciousness.
Morale System: Every mercenary has their own morale rating. If a unit is shot or due to loss of a friendly Unit, the morale goes down. That can cause both the enemy and the player to panic, run away or make deadly mistakes.
Drop & Loot system has been revised substantially, making containers accessible throughout the game.
New enemy spawn system creates enemies more varied equipment according to their experience level and assigns them to unique squads.
Improved enemy AI - enemies will now go into cover, move or change stance and use their equipment to the best of their ability
15 new iconic weapons: New handguns, SMGs, assault- and sniper rifles
Strategic Map UI Overhaul
All Sectors unlocked: All Sectors from the final game can now be accessed and explored!
We felt that the developer diary was a cool and simple way to show off new content and features from the game, so we pushed forward to get one ready for this update as well:
You can find a change log for 0.9.0 version and the versions that have been on the alpha branch since the last EA update below:
Change Log Version 0.9.0 and older versions
Armor, Portraits and Equipment
One of our artists, Christian, is a bit camera shy, but that doesn't mean his work shouldn't be shared with the community. He's primarily been working on the portraits for the game, the trash items and the different equipment.
A selection of the above can be found below:
Portraits:
Trash Items:
Equipment:
Credit list (Important)
We still haven't added names to the credit list for both the website and inside the actual game. A lot people don't want us to use their real name, which is why we've held back. The best option is simply to say: If you want your name on the website/inside the game (depends on which tier you opted for), you need to follow the link below and fill out the form. This way only people who want to be on the list will get there instead of i us having to handle it manually.
We are using a sign up form from Mail Chimp for this, so once you have filled out the survey YOU MUST CONFIRM BEING ADDED TO THE LIST. Functions like any other newsletter sign up, so you will get a confirmation email, remember to check your spam folders.
Deadline is October 16th, 2014, 12:00 CET.
DRM + DRM-Free Changes
For a long time, we have been discussing whether or not we should simplify the whole approach to DRM and DRM-Free copies and we've finally reached a decision. We'll make the game available in both versions at no extra cost, meaning you can download both a steam version and a DRM-Free version via Humble Bundle. It makes it a lot easier for us to handle and also makes for a happier collection of Backers :)
The DRM-free version won't be available before the game is released on the 21st of October.
Keys For $25 Backers
With this final update we'll be sending out the remaining keys for backers in $25, we'll start as soon as the update is live.
You can also retrieve the key yourself through Humble Bundle, if you use the same email as on Kickstarter/Paypal. However, we have been getting some reports from backers about not ending up in the correct tier ranges. We think it's a general setup issue and are already in talks with Humble Bundle to get it fixed. Therefore please don't "panic" if you're not in the right tier range and send us lots of messages and emails, we're on it :)
To get it, enter your backer email into the key re-sender here:https://www.humblebundle.com/?s=resender and then you'll receive it via email.
The $5 Tier won't update automatically, so you have to pick the correct tier in list after using the key re-sender.
Backer Addresses (important)
As we are getting closer and closer to release we are also getting closer to sending out physical rewards. As mentioned in Update 46, it won't happen on release day and to avoid as many errors with the shipping as possible, we ask that you make sure your address is up to date and that you leave us a message on Kickstarter or support@fullcontrol.dk, if you make changes or need it to be updated.

Deadline for this is on the 20th of October 2014, and backers who have not submitted their address by October 20th, 2014, 12:00 CET will NOT receive any physical items
Until Next Time!
The Full Control JAF Team
Read more
---
A bit too late for a longer test, but the strategic UI is still completely unusable in a 4:3 resolution and it is still impossible to play in a 16:9 resolution in fullscreen on a 4:3 monitor. At least one of those needs to be fixed before the release, otherwise a lot of people will be rightfully upset.
Read more
---
Early Access Tactical Overload Update + Developer Diary 4
Dear Backers,
We have survived the craziness that is Gamescom and are now ready to release the next big update for JAF, which comes with an all new user interface and additional features to the tactical layer of the game:
Quick Overview of Features:
16 New Sectors
13 New Mercenaries
Melee Combat
Stealth System
Updated Inventory System with Quickslots
Interrupts
Viewcones
In-game UI Overhaul
You can find the full changelog here: Changelog Tactical Overload Update
It's been very busy this last month so we haven't manage to squeeze in a trailer for the next update. However, we still wanted to show off a few of the new features in this update and share a bit of information about their design, so we created a new dev diary:
Dev Diary 4: Tactical Overload
Release Date and Launch Price:
For those who don't know, we told journalists at Gamescom that we would be launching the final version of JAF in Mid/End October and that the launch price would be €29.99.
We've now settled on a release date, which is the 21st of October for both the digital version and the retail version.
We originally said we would launch in November 2014, but as we would be competing with a lot of big titles at that time, we have decided for this slot instead.
Info Regarding Boxed Copies for Backers
The boxed copies and collectors edition won't be ready for when the final game is released digitally and physically. It's mainly because of the more exotic items that need to be created and all of the individual shipments we need to make, making it a huge task on its own.
However, as all backers $25+ will have received a digital key at that point we hope it's an acceptable way of handling this as everyone will then be able to play the game.
Strategic Layer UI Sneak Peek
During Gamescom we also shared a bit of information with journalists about what we have planned for the future and a new and improved Strategic UI is definitely part of that. We gave the journalists a sneak peek, so we only found it fair that you get it as well, so: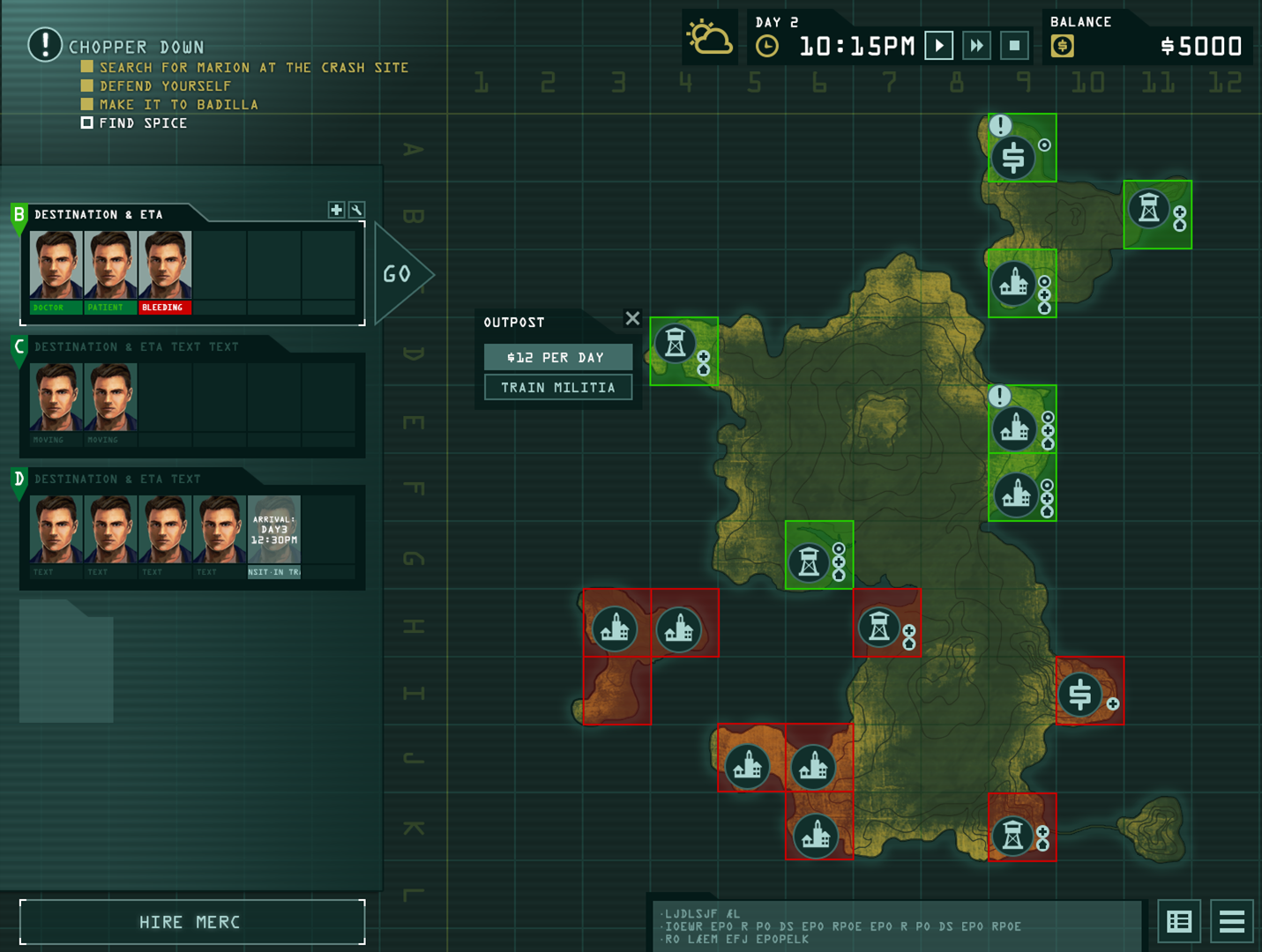 We took out some of the elements from the Strategic Layer for Gamescom as we didn't want it to have too much information. This is still a work-in-progress image, so just an indication of where we're heading.
Steam Trading Cards
With this update we're also adding Steam Trading Cards to the game, so start collecting to unlock some nice profile backgrounds and icons :)
Background: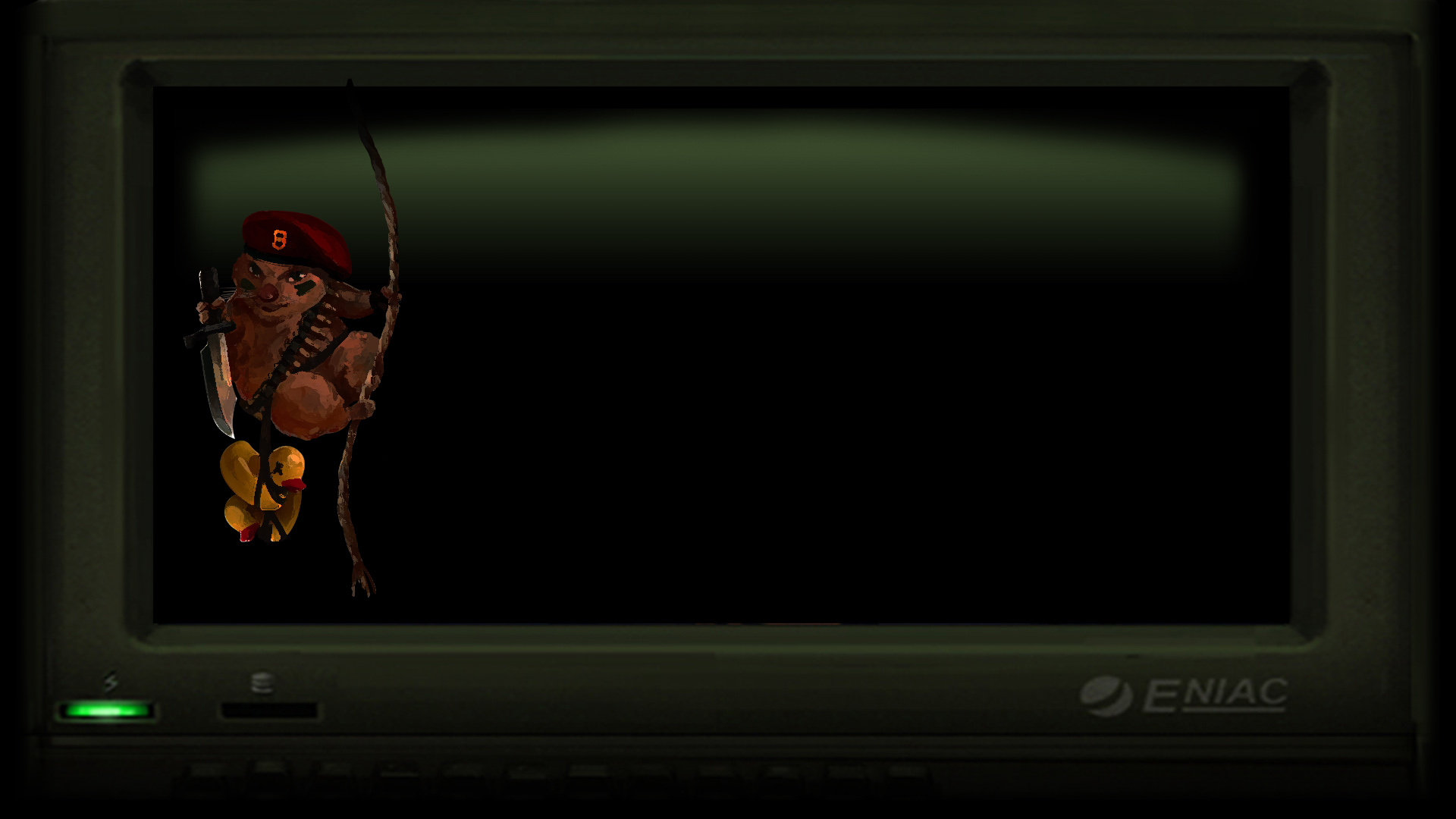 Cards: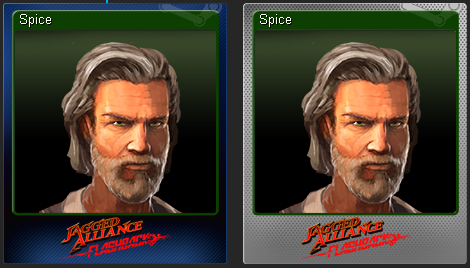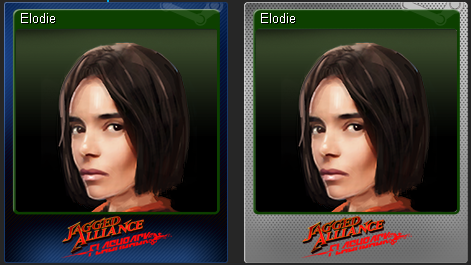 Icons:
We've used the same badges that we currently use on the JAF Forum.
Next Batch of Keys
We'll be sending the next batch of keys for $35-42 next week (week 37). So please get back to us if you haven't received one in that week and you are in one of those tiers.
Until Next Time!
The Fullcontrol JAF Team
Read more
---
Update 45: Logitech Competition Winner & EA Access Plans
Dear Backers,
We are back from vacation and hard at work in this surprisingly hot Danish Summer. Since we are not used to that here in Denmark, the office turned into a real sweatshop - air conditioned offices are not the norm here (insulation is).
Despite the heat we have managed to make good progress with the game and are implementing the next features on the rollout plan.
We recently put out a small hot fix update for JAF, to get rid of some of the worst bugs that were reported following the big update.
We have collected the feedback we got from backers on both Steam, feedback mails directly from the game and the JAF forum and summed it up to give a better overview. Not all of the feedback and suggestions are there, but that doesn't mean that it is not noted down :)
See the list here: Bugs, Suggestions, Feedback Overview Round 2
Our next immediate goal is to get a build ready for Gamescom, which we can use to show off the game to journalists. The build will include some of the features for the next big update, which is planned for the end of August, so the journalists can get a quick preview of what's to come.
Competitions Winners
As you all know we decided to prolong the modding competition to get more entries and to give the level designers a bit more time to work on their levels.
Item design competition
We got a fair amount of entries for this competition unfortunately not all of them could qualify as they were more or less a text with a photo attached, which means we would need to spend a lot of time working on the image to make it fit. Like our other competitions there is a chance that other entries than the winners make it into to game.
The winners for this competition was decided by the team
Dinosaur Plush (Nakano) - Wins a Wireless Headset + Item in the game
Ivan Bear (Shanga) - Wins a Mouse + Item in the game
Espace Wreck (Grim) - Item in the game
Dinosaur Plush:A certain dinosaur not anyway related to the annoying, pathetic, furry and purple dinosaur which is, by some, thought to be hung, shot and run over. This green dinosaur should be loved instead.
Ivan Bear: A cuddly bear, dressed up in what appears to be a Soviet uniform. Counter-propaganda at its best...
Espace Wreck Board Game: Set in the isolated trunk of an ancient french car lost in the graveyard, players lead a small army of armored Termitetinators in a ferocious fight against hordes of ants, gin stealers!
We picked the Dinosaur Plush for its subtle reference to JA2 and the questionnaire you get to answer when creating your IMP.
"A certain, annoying, pathetic, furry, purple dinosaur should be:
1. Held up as a loving role-model for children's morals and values.
2. Hung from a tree.
3. Hung from a tree and shot.
4. Hung from a tree, shot, gutted and run over by a Buick."
We probably have to do a few tweaks to the images and their description to make them fit, but overall they should stay close to what has been submitted.
A special thanks to Grim for submitting a lot of items in good quality, let's see if more than one of them make it into the game.
Here is a quick view of some of the other items we received :)
Krasnodar design competition
The design of Krasnodar was a major task that only 3 backers took on. Grim, Shanga and Claudius. Both Grim and Shaga have been busy with their levels the last two weeks, but to keep the competition fair, we decided to only count the entries up until July 14th. However, with the current improvements on Shanga's and Grim's maps we have decided we are going to implement both of them in the actual game and tweak them to fit accordingly :)
The level designers decided the winner for this competition.
1. Grim - Wins a Wireless Headset + A Mouse + Sector in the game
2. Shanga - Wins a Wireless Headset + Sector in game as a bonus
3. Claudius - Wins a Mouse
Grim's Sector:
You can see a lot more screenshots and download the sector to try out yourself on Steam Workshop
Shanga's Sector:
You can see a lot more screenshots and download the sector to try out yourself on Steam Workshop
Claudius's Sector:
Claudius did not add his level to Steam Workshop
Congratulations to all winners and a big thanks to all who participated in the competition.
We will contact the winners for their address information after sending out this update.
Lastly, a big thanks to Logitech for sponsoring the physical prizes.
Headstart Clarification and access to Steam Early Access
We have now been in Beta for a few months and are happy with the all the feedback and responses we have been getting for the game. Therefore, we have decided to start opening up the game to other kickstarter backers in tiers $25-$65 over a specific time period. We will start by giving access to backers in $50-$65 tier, then $35-$42 tiers and lastly $25 tier.
For the Headstart we plan to add a release candidate to the Early Access branch one week before the official release date, which means that everyone who has access to Steam Early Access will get a Headstart.
The plan is to send out keys to backers in tiers $50-65 in week 33, whereas $35-42 backers will get codes in week 37. We also wanted to give something to backers in the $25 tier and therefore we will give them the access to Steam Early Access once we have uploaded the final release candidate.
We are happy that we are able to take this approach and we are looking forward to your feedback on the game.
Thanks for your support!
T-shirt sizes and choice of model
We have started running through the surveys for info on the T-shirts and which model people want. Unfortunately it seems the survey was not so easy to understand, which is mainly due to the fact that Kickstarter only lets you send one survey and probably also bad communication on our side.
A lot of people answered no to the question regarding the Extra T-shirt, but we also asked for the T-shirt size and choice of model for the T-shirt that came with the Tier in the same question. ($100Tier and up, except for all digital tiers)
We will start contacting the people who did not pick a size and model on Monday to see if they actually do want a t-shirt or if they want us to keep the funds to develop the game instead ;)
The people who did not pick a model at all will get one with the JAF Logo.
Concepts for T-shirts:
Normal model is in update 3 (New Logo on it)
Hamster model is in update 7
The Deadline for replying is Monday the 18th of August 2014
Gamescom
We will be attending Gamescom this year, but we will only be hanging out in the business area at the Nordic Booth. We may briefly venture out into the treacherous consumer area for a quick breather between interviews, we currently have 21 interviews scheduled for JAF in a two day period, so it is going to be busy. If you see us, feel free to say hi, we won't be hard to spot as we are wearing black polo shirts with a BIG Full Control logo on the front and several game logos on the back.
Until Next Time!
The Full Control JAF Team
Read more