HOME
Welcome to the new and official Jagged Alliance: Flashback site!
On the site you'll be be able to find various news about the game, discuss certain aspects of the game in the forums and see video clips like dev diaries or timelapse showcases once we get further into development.
---
1.1.2 Live on Steam
We've just added a new patch to Steam, which adds Russian Localization and is supported by a new Public Editor. New Kickstarter skins are also in, waiting from keys from steam now.

1.1.2

Bugfixes
some localization fixes
fixed AI bugs related to stealth
fixed bug with some of the AI units not wearing enough armor
fixed the mods menu to work on OSX and Linux
fixed NRE on NPC lookup that caused game crashes
fixed bugs in the Spigadoro quest
fixed the ammo duplication exploit
fixed the mercenary becoming wounded after level up

Features
Russian Localization added
Public editor updated
DLC clothes pack released
​
Read more
---
1.1.0 Live on Steam
1.1.0 is now live on Steam. I've added the updated changelog below.
1.1.0
Features
- New free "DLC": New sectors and questline
- Lighthouses added to San Hermanos (controlling them removes deploy cost in adjacent sectors)
- Weapon attachments
- Modding menu
- Soviet weapon pack
Bugfixes
Inventory fixes

Stealth fixes

Weapon stats display fixes, so now it uses proper calculations of the modifiers

Reaper achievement value fixed

Some of the AI calculations fixed

Fixed a possibility to duplicate items
Read more
---
1.0.6 is up on the new public test branch
1.0.6 is now live on the new public test branch. This means that you can all get to test and play it now through Steam. If no major issues are reported it's then made live for all to enjoy.
To get access to the public testing branch, you need to do the following:
In your Library, right click on Jagged Alliance: Flashback and select Properties
Under the beta tab, select the "public_test" branch. It is not password protected.

Beware, that we do not guarantee for save game corruption, inquisitors or the occasional waaaaagh to happen. Backup your save game folder please, and this is on your own risk!
1.0.6
Features
Bugfixes
Fixed TeamPlayer perk

Fixed various issues with stealth.

Fixed a bug with memorized enemy indicator

Fixed a bug with some VO not always working correctly for mercs

Fixed the multiple movement bugs, where units keep running sometimes

Fixed bug where AI could fire from the prone stance without LoS

Fixed the error of shooting through obstacles in multiple shot raycast

Fixed AI search behaviour bugs that led to lags and crashes

Changed AI search behaviour to not move so often when they don't spot enemy

Fixed the container to be able to use from the self-tile.

Fixed the camera events bug

Various sound additions and updates (unload weapon, reload weapon variations, interrupt toggle and trigger, end turn)

Fixed blocking issue in H5, in trunk has to be merged in release
Read more
---
JAF - next up
Hey all,

I wanted to take the opportunity to tell you a bit about our current status, and where we are heading within the few next weeks.

As you know, we just released 1.0.5 in little over a week ago. With this update, we introduced ammo types, shotguns and a new questline, beside other bugfixes and features (see full changelog here: http://www.jaggedallianceflashback.com/forum/27/6082#post_6176).

Since then, we have worked on the new Shop interface, which is now in the stage of testing and quality assurance. Furthermore, we have given the Stealth formulas a critical look, and have changed a few things based on the feedback from here in the forum - there was definitely something fishy going on, that we did not catch before release - but still, it will need some more work until we are happy with it.

As these are both quite substantial changes to gameplay and balancing, we do not want to rush things out - meaning I cannot promise any release date on the next Update 1.0.6, which will include those things. We are also working on getting the modding menu back in the game, to share all the cool mods I have seen popup here already. Obviously, there are also still bugs - like the save / load and freezing issues - we are trying to hunt it down, and thanks for everyone giving us their input on this - it is much appreciated! Keep it coming.

Reaching further than the next immediate update, there are weapon attachments coming up, a feature which I am personally looking forward to a lot, and our content team has secretely hatched some plans to extend the game with a handful of sectors and - yet again - a new questline, and ofc the promised additional weapons pack.

As always, we are working on it as fast as we can, and I hope you like what we are doing!

Cheers,

Roman
Read more
---
Update 49: Jagged Alliance: Flashback Released
Dear Backers,
We're happy to announce that Jagged Alliance: Flashback is now live on Steam, info on DRM-free below. The team has pushed forward these last weeks to polish, fix bugs and balance the game. This last week we've made major leaps and with the help of the very dedicated community testers, we have been able to crush some of the nastier bugs. BIG THANK YOU!!, we needed your support.
We thought the game deserved a proper trailer for the release, it turned out pretty damn awesome, so let's kick off this update with a bang.
Jagged Alliance Flashback: Release Trailer
Words from our CEO, Thomas Lund
A lot of people have asked us what happens on the other side of the release. The answer is "it depends". It depends on sales really. We have to feed our families and pay the bills like everyone else, and only if the game sells will we be able to do bigger expansions.
BUT - we have a track record of post-launch support, and we are dedicated to that for JAF as well. So coming up in some weeks from now will be a free upgrade with some of the content that didn't get into the 1.0 release.
Read on!
The first 2 things are features we really really would have loved to have in 1.0, but that didn't make the deadline.
- Weapon attachments
Scopes, silencers, ammo extenders and more!!
- Ammo types
Armor piercing, hollowpoint and other nasty pieces of lead
Additionally we want to add more content to the game. So
- Soviet weapon pack
As pointed out by the community, we added a lot of western weapons to the game. Its time to look at the old Soviet weapons and get a batch of them into the drop tables.
And lastly 2 features that didn't turn out as great as they could have. So we will fix them up and polish:
- Shotguns:
Making shotguns look and feel more "blasty" - make them shoot multiple projectiles at once, so you get that great "buckshot" feel.
- Better shop interface:
A proper shop with images, stats and also ability to sell your items again
What is on the horizon past that is a big unknown. Bugfixes are a given, but content wise we don't want to promise something we can't deliver. So let's see what happens over the next weeks.
Kickstarter related info
Skin packs + Special Merc
We've had to move some elements such as the skin packs and the special Merc from the Dog Tag to post release. We need to set up a proper system for them to unlock, so once that's in place, we'll be able make them available. We may have to make some changes to the various packs and possibly bundle them up, but more on that later.
Modding
Modding button has been grayed out because we need to hook in the new UI to support it, but don't worry it will be added to the game, once we get past initial issues that spawn from release.
Simply letting you know now so you don't think it won't be part of JAF :)
Digital Rewards and Humble Bundle Info
For release day you'll only have access to the digital version of the game. All other digital rewards will be uploaded to Humble Bundle once they're ready and we'll let you know through Kickstarter Updates. Most should be available at the same time we have produced the physical goods.
We're still getting a few reports about people not being in the right tier. The spreadsheet Humble Bundle had set up needed to be completely redone, but it is a lot better now. There could be some issues when people change their email address and such, we don't get any information about that unless you tell us or if we re-export the tiers.
On Humble Bundle we've used the email you pledged with, be it on PayPal or via Kickstarter. If you create an account on HB with that email and claim past purchases you should be able to see what you have access to.
Otherwise try to use the resender that we posted about in the last update.https://www.humblebundle.com/?s=resender
If everything fails, contact us via kickstarter (please send us messages directly, it's easy to miss comments.) or support@fullcontrol.dk and we will sort it out. Mostly been $25 backers having this issue.
DRM-Free Version
We are creating and uploading the DRM-free version to Humble Bundle now, but please keep in mind that Humble Bundle are based in the US, so the DRM-free version most likely won't be available before sometime later today or tomorrow.
Linux Version issues
We'll have wait to send out the Linux version as we're working on clearing up some issues that are only specific to Linux. We will do our best to get the Linux version out either later today or sometime tomorrow.
The team has been running on full steam the last month or so, with a programmer clocking in 80 hours last week. We are a passionate bunch and will continue to do our best to support you and Jagged Alliance: Flashback. What the future holds, is still not set in stone, but for now we'll have a piece of cake and a glass of champagne and then get back to work :)
Until next time!
The Full Control JAF Team
Read more
---
Update 48: Final Countdown + Dev Diary 5
Dear Backers,
We are closing in on the release of Jagged Alliance: Flashback, which is why this will be our last big update before the release. There is a lot of new content in the new update and still more to come. This last week will surely be intense, as we will be working full throttle to get the game polished up with as many features as possible.
Here's a quick overview of the Final Countdown update:
Energy System: The energy system aims to create the feeling of exhaustion or vigoration at appropriate times. A unit will run low on energy after, for example, sprinting for several consecutive turns. This simulates being out of breath, exhaustion or even unconsciousness.
Morale System: Every mercenary has their own morale rating. If a unit is shot or due to loss of a friendly Unit, the morale goes down. That can cause both the enemy and the player to panic, run away or make deadly mistakes.
Drop & Loot system has been revised substantially, making containers accessible throughout the game.
New enemy spawn system creates enemies more varied equipment according to their experience level and assigns them to unique squads.
Improved enemy AI - enemies will now go into cover, move or change stance and use their equipment to the best of their ability
15 new iconic weapons: New handguns, SMGs, assault- and sniper rifles
Strategic Map UI Overhaul
All Sectors unlocked: All Sectors from the final game can now be accessed and explored!
We felt that the developer diary was a cool and simple way to show off new content and features from the game, so we pushed forward to get one ready for this update as well:
You can find a change log for 0.9.0 version and the versions that have been on the alpha branch since the last EA update below:
Change Log Version 0.9.0 and older versions
Armor, Portraits and Equipment
One of our artists, Christian, is a bit camera shy, but that doesn't mean his work shouldn't be shared with the community. He's primarily been working on the portraits for the game, the trash items and the different equipment.
A selection of the above can be found below:
Portraits:
Trash Items:
Equipment:
Credit list (Important)
We still haven't added names to the credit list for both the website and inside the actual game. A lot people don't want us to use their real name, which is why we've held back. The best option is simply to say: If you want your name on the website/inside the game (depends on which tier you opted for), you need to follow the link below and fill out the form. This way only people who want to be on the list will get there instead of i us having to handle it manually.
We are using a sign up form from Mail Chimp for this, so once you have filled out the survey YOU MUST CONFIRM BEING ADDED TO THE LIST. Functions like any other newsletter sign up, so you will get a confirmation email, remember to check your spam folders.
Deadline is October 16th, 2014, 12:00 CET.
DRM + DRM-Free Changes
For a long time, we have been discussing whether or not we should simplify the whole approach to DRM and DRM-Free copies and we've finally reached a decision. We'll make the game available in both versions at no extra cost, meaning you can download both a steam version and a DRM-Free version via Humble Bundle. It makes it a lot easier for us to handle and also makes for a happier collection of Backers :)
The DRM-free version won't be available before the game is released on the 21st of October.
Keys For $25 Backers
With this final update we'll be sending out the remaining keys for backers in $25, we'll start as soon as the update is live.
You can also retrieve the key yourself through Humble Bundle, if you use the same email as on Kickstarter/Paypal. However, we have been getting some reports from backers about not ending up in the correct tier ranges. We think it's a general setup issue and are already in talks with Humble Bundle to get it fixed. Therefore please don't "panic" if you're not in the right tier range and send us lots of messages and emails, we're on it :)
To get it, enter your backer email into the key re-sender here:https://www.humblebundle.com/?s=resender and then you'll receive it via email.
The $5 Tier won't update automatically, so you have to pick the correct tier in list after using the key re-sender.
Backer Addresses (important)
As we are getting closer and closer to release we are also getting closer to sending out physical rewards. As mentioned in Update 46, it won't happen on release day and to avoid as many errors with the shipping as possible, we ask that you make sure your address is up to date and that you leave us a message on Kickstarter or support@fullcontrol.dk, if you make changes or need it to be updated.

Deadline for this is on the 20th of October 2014, and backers who have not submitted their address by October 20th, 2014, 12:00 CET will NOT receive any physical items
Until Next Time!
The Full Control JAF Team
Read more
---
A bit too late for a longer test, but the strategic UI is still completely unusable in a 4:3 resolution and it is still impossible to play in a 16:9 resolution in fullscreen on a 4:3 monitor. At least one of those needs to be fixed before the release, otherwise a lot of people will be rightfully upset.
Read more
---
Early Access Tactical Overload Update + Developer Diary 4
Dear Backers,
We have survived the craziness that is Gamescom and are now ready to release the next big update for JAF, which comes with an all new user interface and additional features to the tactical layer of the game:
Quick Overview of Features:
16 New Sectors
13 New Mercenaries
Melee Combat
Stealth System
Updated Inventory System with Quickslots
Interrupts
Viewcones
In-game UI Overhaul
You can find the full changelog here: Changelog Tactical Overload Update
It's been very busy this last month so we haven't manage to squeeze in a trailer for the next update. However, we still wanted to show off a few of the new features in this update and share a bit of information about their design, so we created a new dev diary:
Dev Diary 4: Tactical Overload
Release Date and Launch Price:
For those who don't know, we told journalists at Gamescom that we would be launching the final version of JAF in Mid/End October and that the launch price would be €29.99.
We've now settled on a release date, which is the 21st of October for both the digital version and the retail version.
We originally said we would launch in November 2014, but as we would be competing with a lot of big titles at that time, we have decided for this slot instead.
Info Regarding Boxed Copies for Backers
The boxed copies and collectors edition won't be ready for when the final game is released digitally and physically. It's mainly because of the more exotic items that need to be created and all of the individual shipments we need to make, making it a huge task on its own.
However, as all backers $25+ will have received a digital key at that point we hope it's an acceptable way of handling this as everyone will then be able to play the game.
Strategic Layer UI Sneak Peek
During Gamescom we also shared a bit of information with journalists about what we have planned for the future and a new and improved Strategic UI is definitely part of that. We gave the journalists a sneak peek, so we only found it fair that you get it as well, so: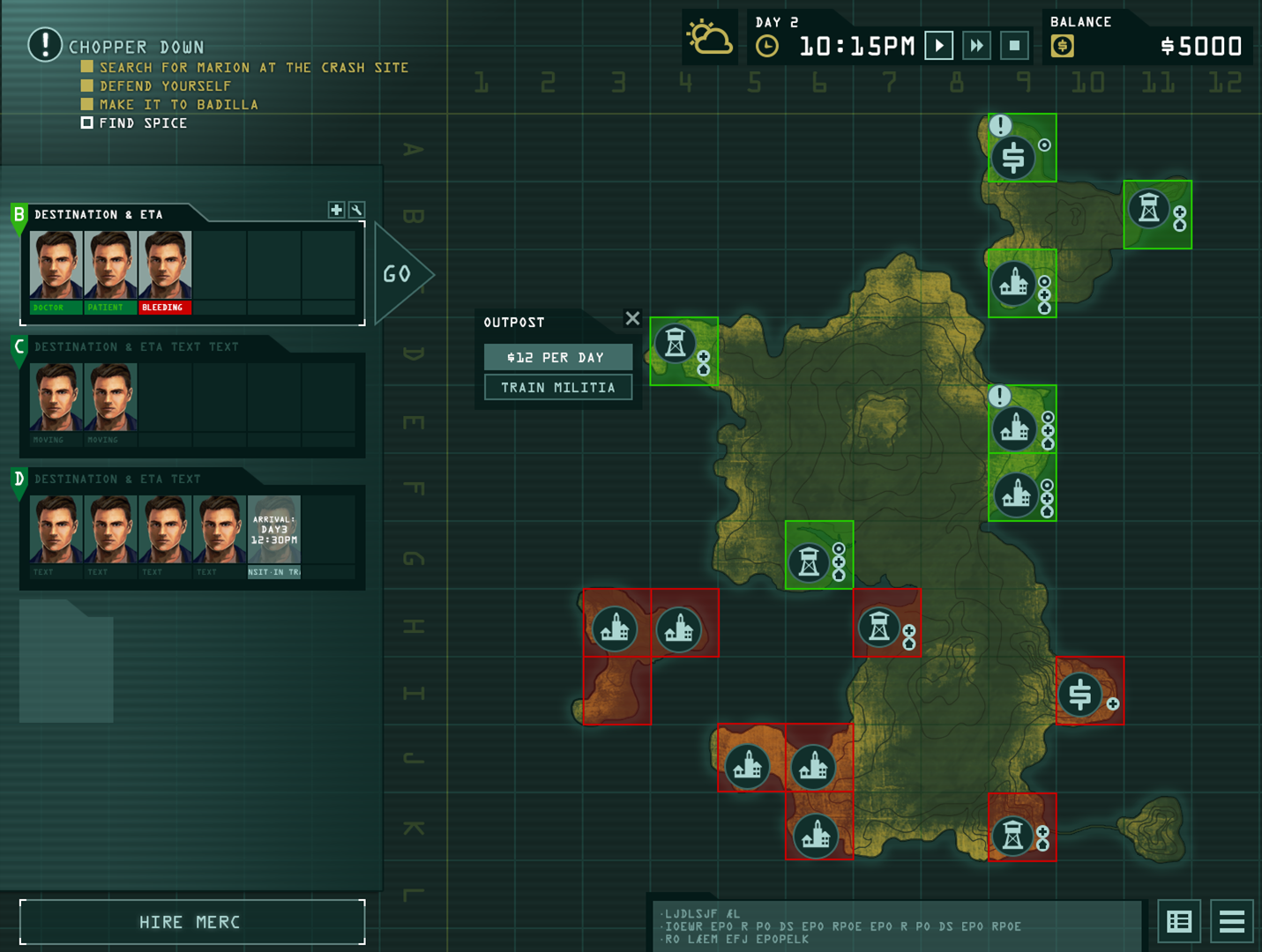 We took out some of the elements from the Strategic Layer for Gamescom as we didn't want it to have too much information. This is still a work-in-progress image, so just an indication of where we're heading.
Steam Trading Cards
With this update we're also adding Steam Trading Cards to the game, so start collecting to unlock some nice profile backgrounds and icons :)
Background: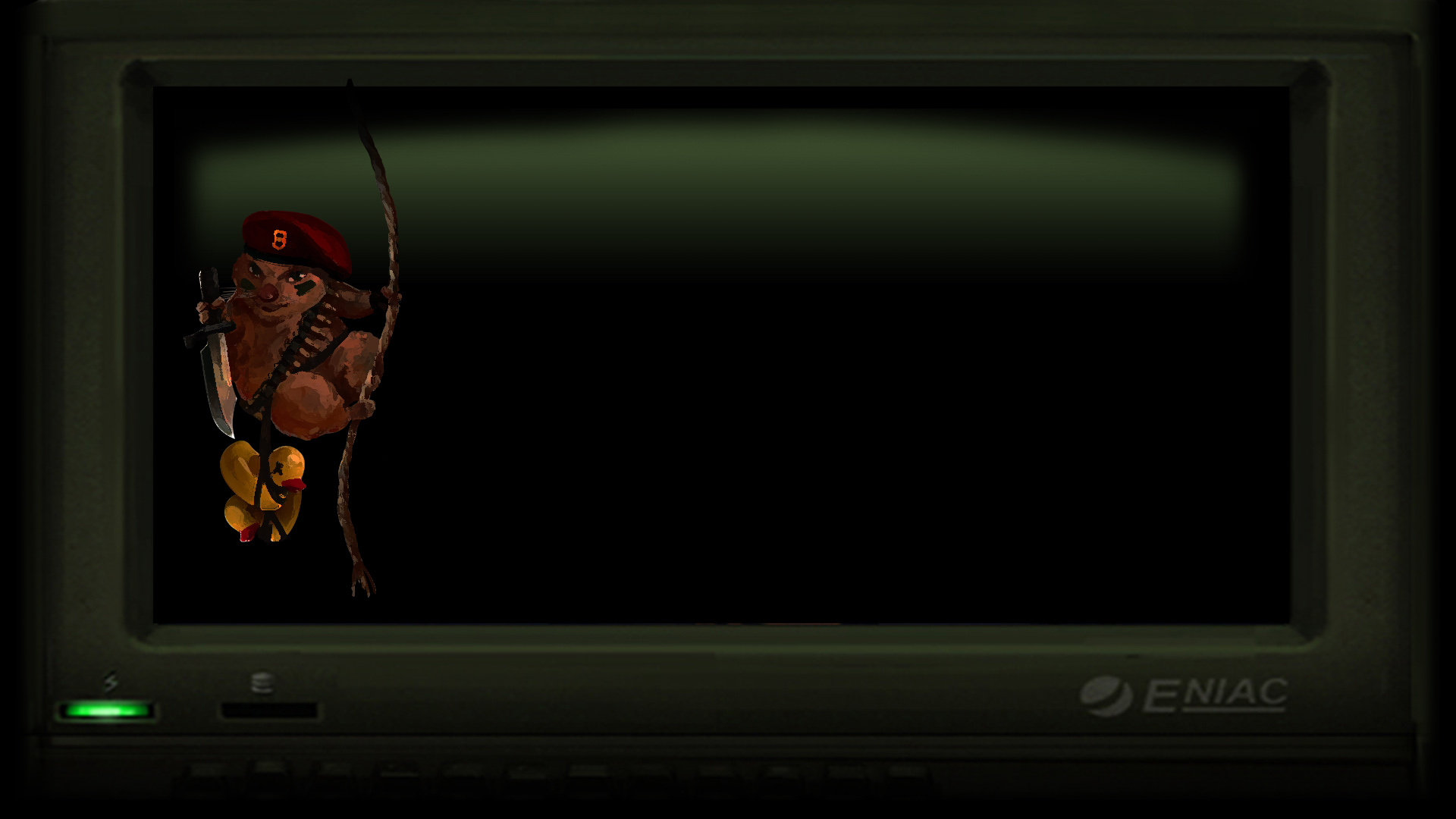 Cards: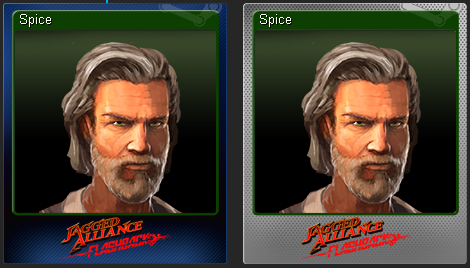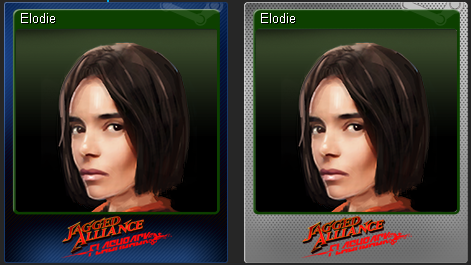 Icons:
We've used the same badges that we currently use on the JAF Forum.
Next Batch of Keys
We'll be sending the next batch of keys for $35-42 next week (week 37). So please get back to us if you haven't received one in that week and you are in one of those tiers.
Until Next Time!
The Fullcontrol JAF Team
Read more